Public Health Preparedness & Response
Regions
For the purpose of public health preparedness & response, North Carolina's 100 counties are grouped into four geographic regions: Central, Western, Eastern and CRI (Cities Readiness Initiative). Each region has a PHP&R field office staffed with planning consultants, training and exercise facilitators, industrial hygienists, pharmacists, and program support specialists, all employed by the state, who work with the county public health officials.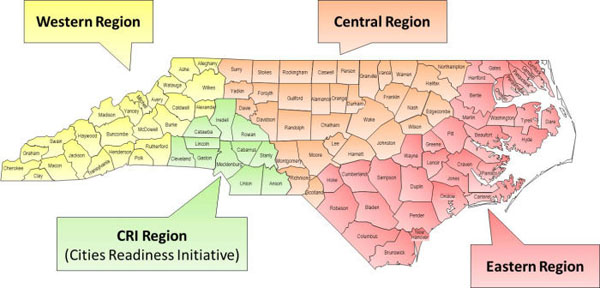 Central Region Counties:
Alamance, Caswell, Chatham, Davidson, Davie, Durham, Edgecombe, Forsyth, Franklin, Granville, Guilford, Halifax, Harnett, Johnston, Lee, Moore, Montgomery, Nash, Northampton, Orange, Person, Randolph, Richmond, Rockingham, Scotland, Stokes, Surry, Vance, Wake, Warren, Wilson, Yadkin
Main No. 919-649-8250
Fax No. 919-715-2246
Our Staff
CRI Region Counties:
Anson, Cabarrus*, Catawba, Cleveland, Gaston*, Iredell*, Lincoln*, Mecklenburg*, Rowan*, Stanly, Union*
*Enrolled in the CDC Cities Readiness Initiative (CRI)
program.
Main No. 704-566-2803
Fax No. 704-566-2806
Our Staff
Eastern Region Counties:
Beaufort, Bertie, Bladen, Brunswick, Camden, Carteret, Chowan, Columbus, Craven, Cumberland, Currituck, Dare, Duplin, Gates, Greene, Hertford, Hoke, Hyde, Jones, Lenoir, Martin, New Hanover, Onslow, Pamlico, Pasquotank, Pender, Perquimans, Pitt, Robeson, Sampson, Tyrrell, Washington, Wayne
Main No. 252-355-9093 Fax No. 252-355-9097
Our Staff
Western Region Counties:
Alexander, Alleghany, Ashe, Avery, Buncombe, Burke, Caldwell, Cherokee, Clay, Eastern Band of Cherokee Indians, Graham, Haywood, Henderson, Jackson, Macon, Madison, McDowell, Mitchell, Polk, Rutherford, Swain, Transylvania, Watauga, Wilkes, Yancey
Main No. 828-250-3826
Fax No. 828-250-2356
Our Staff