Public Health Preparedness & Response
Hospital-Based Public Health Epidemiologists
The Hospital-Based Public Health Epidemiologist (PHE) program was created by the North Carolina Division of Public Health in 2003 to complement and strengthen public health preparedness efforts that began with the establishment of the Public Health Preparedness and Response Branch in 2002. The PHE program seeks to enhance communication among clinicians, hospitals, and the public health system. The PHE program is composed of a director and seven PHEs based in North Carolina's largest hospital systems, covering approximately 38 percent of general/acute care beds and 40 percent of emergency department visits.
PHEs are responsible for:
Surveillance, detection, and monitoring of community-acquired infections and potential bioterrorism events;
Assisting LHDs with public health investigations;
Educating clinicians regarding diseases of public health importance;
Enhancing communication among clinicians, hospitals, and the public health system; and
Conducting special studies.
In 2010, the North Carolina Preparedness and Emergency Response Research Center (NCPERRC) at the University of North Carolina surveyed local health department nurses in North Carolina about the PHE program. The majority of respondents who interacted with PHEs reported a positive impact on communication between hospitals and local public health, communicable disease reporting, and communicable disease investigations. NCPERRC published the results of the study in the 2011 research brief, How the Hospital-Based Public Health Epidemiologist Program Benefits Local Health Departments
(PDF, 132KB).
PHE Hospital Locations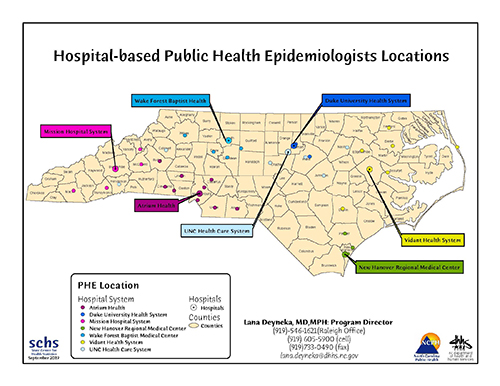 For additional information and questions, contact Lana Deyneka, Hospital-Based Epidemiologist Program Director, at 919-546-1621.
For Additional Information: